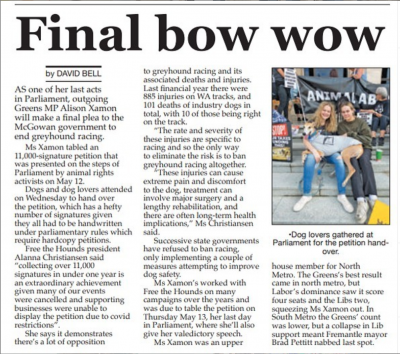 On May 12th 2021, 50 wonderful people and their hounds gathered at Parliament House to represent the 11,500 people who signed our petition to end greyhound racing in WA
Just over 11,500 hard copy signatures from members of the WA community were presented to @alisonxamon who tabled the petition the following morning. 11,500 signatures is a remarkable achievement and we are absolutely thrilled with the final count. This petition sends a clear message to the WA Government that there is indeed strong community opposition to greyhound racing in WA.
In response to the petition, the WA Government requested a brief two-page submission outlining the issues relating to the petition. Read the submission here.
Next step is to keep this issue in the spotlight and place pressure on our lawmakers to consider ending greyhound racing in WA by the end of this Government's term.
Email your local mp - now!